---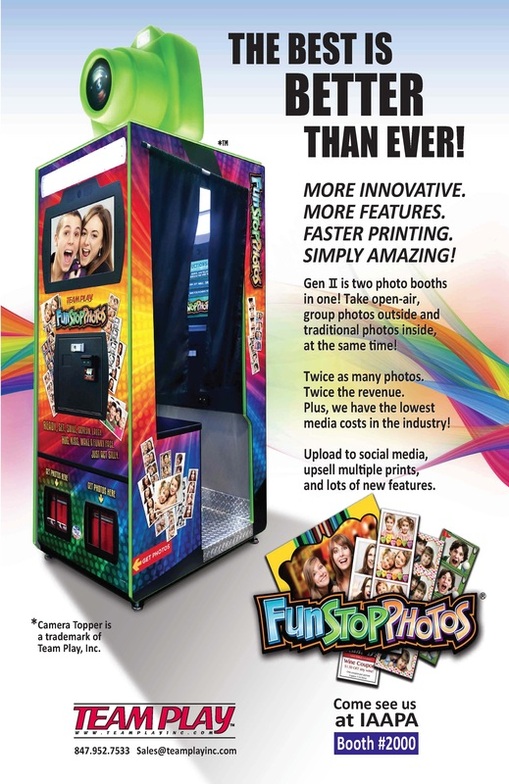 The Fun Stop Photos™ photo booth brings fun and excitement to any location! Both the arcade and event version photo booths take open-air, group photos outside the photo booth and traditional photos inside the photo booth, AT THE SAME TIME! Having a Fun Stop Photos™ photo booth ensures that everyone gets in on the fun! Twice as many photos. Twice the revenue.

Every Gen II Fun Stop Photos is two photo booths in one, for the price of one! Your Fun Stop Photos™ digital photo booth will come with two high-def LCD touch screens, two dye-sublimation printers, two wide-angle cameras, two currency acceptors, and two free cases of Media. No other photo booths for sale are comparable. And, your ongoing photo booth Media costs are substantially lower for Fun Stop Photos™ than any other photo booth on the market.

You will love that the Fun Stop Photos™ Gen II photo booths were designed with the Operator's needs in mind. Features such as the industrial-grade photo booth electronics, super fast Quad Core processors, medical-grade power supply, internal metal frame, heavy-duty casters and leg-levelers, interlocking printer mounting bracket, huge print capacity, security features, screen status icons, and other awesome features were designed into these photo booths to make your life easier . . . and your earnings better!

All of the Fun Stop Photos™ Gen II photo booth prints can be "personalized" with stylish borders and dazzling graphics, to include your custom message and logo on the photo booth prints and photo strips. Photos taken INSIDE or OUTSIDE the Fun Stop Photos™ Gen II photo booths can be printed on either 2" x 6" photo strips or 4" x 6" photo prints. The wide angle cameras capture group photos with as many as 15+ people. With the optional upsell feature, your customers can order as many photo booth prints as they want, so everyone in the group gets a copy!

In addition to personalized photo prints, both of the photo booth's two LCD touch screens can display graphics personalized for your location or event. With our free photo booth software update, your customers can post their photo booth pictures to Social Media, instantly providing online advertising of the FUN that customers have at your location!

Fun Stop Photos has been enormously popular, taking the photo booth industry by storm and are the best photo booths for sale today. These photo booths have been sold all over the United States and into Canada, Brazil, Mexico, Colombia, Argentina, Chile, South Africa, and Australia. English and Spanish options are available for the photo booth instructions and LCD touch screen displays.

If you are looking to buy a photo booth that is dependable, stylish, reliable and fun, then Fun Stop Photos™ is the best photo booth for you!
---
---
"Fun Stop Photos offers the best value of any of the digital photo booths for sale. Fun Stop Photos are, literally, two photo booths for the price of one, and they are the best photo booths for sale today. Plus, the media for Fun Stop Photos digital photo booths costs as much as 80% less than our competitors' media, saving you some $3,000 to $6,000 per year in photo booth media costs! It's no wonder these photo booths are selling as fast as we can manufacture them."
-- Frank Pellegrini, President and Owner, Team Play, Inc.
---