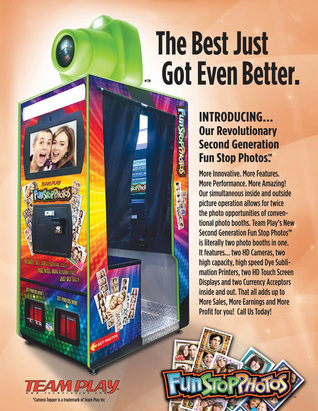 Last week, the Fun Stop Photos™ photo booth took Vegas by storm!

You're familiar with the famous "What happens here, stays here" Las Vegas campaign. Our Fun Stop Photos™ photo booth may have been partying in Las Vegas, but it's certainly not staying there. Instead, at this very moment, that Bad-Boy photo booth is partying in different countries all over the world!

The 2014 Amusement Expo in Las Vegas was an exceptionally exciting show for photo booth manufacturer, Team Play, Inc. After just one day, we had tons of orders for our new Gen II photo booth -- and we completely sold out our entire inventory of the First Generation Fun Stop Photos™ photo booths!!

That's what I call a great big Las Vegas welcome!


With that many photo booths flying out the door, we have been swamped. Everyone at Team Play is busy manufacturing, packing and shipping photo booths out of our Elk Grove Village, Illinois warehouse at a frenetic pace.

Nothing stayed in Las Vegas, because we brought the excitement home with us!

So, if you were hoping to buy a First Generation photo booth, I am sorry to report that you are too late. However, the good news is that the Fun Stop Photos™ Gen II photo booth is for sale and now shipping. New units are in production, and orders are being fulfilled.

It's an exciting time in the photo booth business!

Gen II offers you both the Arcade Version photo booth (shown) and an elegant Event Version photo booth. Guests enjoy taking intimate photos inside the Fun Stop Photos™ photo booth. Simultaneously, group photos can be taken from the back of the photo booth ~ so everyone gets in on the fun!

What happens in Vegas stays in Vegas.

What happens in a Fun Stop Photos™ photo booth . . . is printed and goes home with you!

---
For information about buying a photo booth,
click here
.
For information about photo booth rentals in Chicago,
click h
ere
.