"Topping the Fun Stop is a camera-shaped beacon in day-glow green."[1]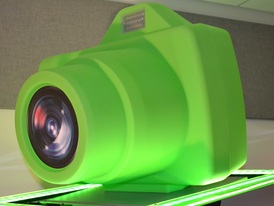 Digital photo booth manufacturer Team Play, Inc., designed and trademarked a gigantic, neon-green camera installed on top of its Fun Stop Photos photo booth. Bright. Neon. Green. We can say it out loud: It is gaudy, flamboyant, conspicuous, blaring, fluorescent, neon green! And the strobe flashes, too. Put on your sunglasses, folks! Fun Stop Photos is in town!

But, it's not by chance that this photo booth manufacturer sells its flashing photo booth topper in such a garish color.

Did you know that kids will choose fluorescent three out of four times?[2] Fluorescent colors are seen 75% sooner, hold the attention twice as long, and are more readily visible in low-light conditions.[3]

Team Play's camera topper screams, "Photo booth here!" So, even from long distances, the Fun Stop Photos photo booth is easy to find. Curious customers translate to increased photo booth business, which translates to increased income for Team Play's photo booth operators.


"A flashing strobe beckons the curious from all corners of the location."[4]

The Fun Stop Photos photo booth topper can be set to periodically flash a camera strobe, like the flash of a camera taking a picture. The photo booth flash isn't going to send anyone into seizures, but Team Play's 24V LED strobe is decidedly noticeable from a distance.

The strobe is enabled through the Fun Stop Photos software menu and works in conjunction with the photo booth's rear screen attract mode. At intervals set from every 30 seconds to every 10 minutes, the camera strobe flashes, and the photo booth snaps a picture to display on the rear LCD touch screen. What a great attention grabber!

Too much of a good thing? For elegant wedding receptions, the strobe and attract screen can be turned off completely, and the camera topper is easily removed.


"With the help of technology, Team Play has made the photo booth into an interactive game, and enhanced the user experience."[5]

Digital photo booth manufacturers other than Team Play are somewhat known for their gimmicks, such as morphed photos and superimposed backgrounds. But the most dependable earner still is your traditional photo strip from Fun Stop Photos. No resorting to corny gimmicks by this top-earning photo booth! By making the photo booth into a showpiece that advertises its own presence, Team Play turns Fun Stop Photos into your location's best rainmaker.

So, gaudy green may turn out to be your favorite color, after all.


---
---