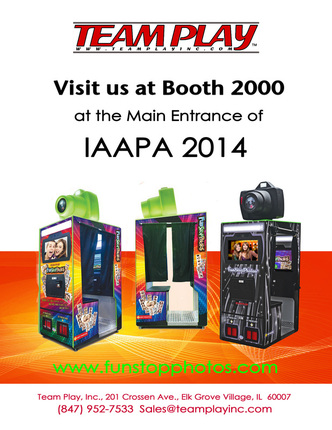 It's almost that time of year again! The IAAPA 2014 trade show will be November 18-21 in Orlando, Florida.
Photo booth manufacturers Team Play, Inc., are very excited that we have been assigned a terrific booth for the IAAPA Attractions Expo 2014!
Team Play's IAAPA Booth #2000 is located just inside the Main Entrance. As you enter the IAAPA Show, take a slight left. The first exhibit you see will be Team Play's Gen II Fun Stop Photos digital photo booths for video arcades, amusement parks and special events.
In addition, at IAAPA 2014 Team Play will release their new "Fishbowl Frenzy" redemption game.
Already considered to be one of the best games ever created, the much-anticipated Fishbowl Frenzy game remains under wraps. It currently is being shown only to a select few distributors under non-disclosure agreements. Fishbowl Frenzy already is pre-selling at a frenetic pace!


Visit Team Play's IAAPA booth #2000 at the Main Entrance to the 2014 IAAPA Attractions Expo in Orlando Florida on November 18-21.

Look for Fishbowl Frenzy at your video game distributors in November 2014.

Pre-release orders are being taken now!

---