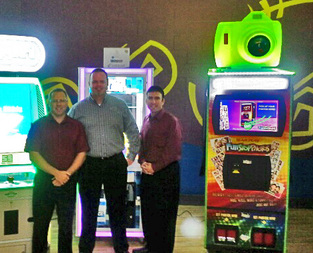 No matter how high-tech photo booths, cell phones, and electric cars become, certain things will always be fun. For example . . .
Kids and dogs will always think it's fun to jump into a freshly-raked pile of fall leaves in the back yard;
My orange cat will always think it's fun to jump out from behind the couch and startle my unsuspecting tabby;
Teenage boys will always think it's fun to show off their skating prowess for teenage girls at the local roller rink; and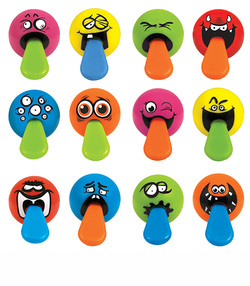 People of all ages will always think its fun to make funny faces in the photo booth and share their photo strips with one another.
Team Play's high-tech Fun Stop Photos digital photo booth fits in perfectly at a classic skating rink! Whether old tech or new, both the photo booth and the roller rink are, and always have been, a place to hang out with friends, show off, meet singles of the opposite sex, and have a fun time.
To that end, Team Play's Geno Giuntoli trekked South to Fort Wayne, Indiana this week to meet with one of Team Play's treasured photo booth distributors, Shaffer Distributing. In Fort Wayne, Team Play and Shaffer Distributing are exhibiting the Fun Stop Photos Gen II photo booth at the 50th Annual Funtastic Novelties Trade Show for skate centers, on October 7 and 8, 2014, in the Roller Dome North.
The annual Funtastic Trade Show invites skate center operators to Fort Wayne to attend informative seminars, network with fellow skating managers, and check out the latest in new products, including the Gen II Fun Stop Photos photo booth. As you can imagine, the Funtastic Skate Show abounds with information on how operators can grow their skating rink revenue, so the Fun Stop Photos photo booth is always a big hit!
The variety of fascinating seminars will include presentations on how to expand your skating rink business and how to boost the revenues generated by your video games and cranes. (The answer, of course, is to simply replace them with Fun Stop Photos photo booths and Team Play's new Fishbowl Frenzy redemption game!) The show promises to be a worthwhile and informative event . . . along with being a perfect opportunity to order a Fun Stop Photos photo booth for your skating rink.
What do Fun Stop Photos photo booths and roller skating have in common? High technology is being used to improve a classic form of entertainment . . . because certain things will always be fun.
---