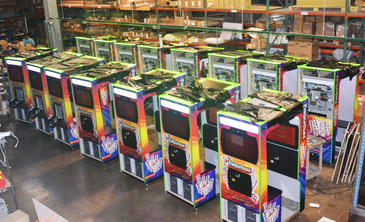 Who knew that photo booths could fly? Fly out the door, that is!

The photo booth manufacturers at Team Play, Inc., are manufacturing Gen II Fun Stop Photos digital photo booths as fast as possible. And, the photo booths still are selling out as fast as we can build them!

"We are so fortunate that we have excellent parts suppliers that have really stepped up to meet this huge demand," said Team Play's co-owner and President, Frank Pellegrini. "Our assembly floor is absolutely packed at all times, and we have had to hire more warehouse staff."

Team Play's owners are even considering buying a second building to accommodate the overwhelming demand for Fun Stop Photos photo booths. Meanwhile, the photo booth manufacturers are shipping out Gen II photo booths as soon as they are built and have expanded the assembly process into space that used to be reserved for inventory.

Why is Gen II Fun Stop Photos taking the photo booth market by storm? "Every year, it picks up more momentum," Pellegrini said. "We were really excited that Fun Stop Photos was so well received its first year, but since then every year has been even better than the one before."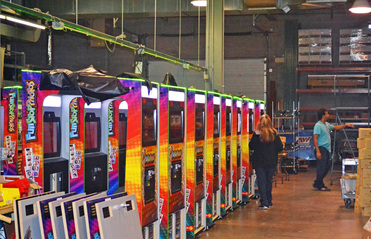 Perhaps the market frenzy is because Fun Stop Photos booths by Team Play are the only photo booths for sale that consist of two photo booths for one price. Fun Stop Photos are the only photo booths for sale anywhere in the photo booth industry that include two high-quality dye-sublimation printers, two touchscreen LCD monitors, two currency acceptors, two high-def, wide-angle cameras, and two free cases of media with every photo booth.

As a result, unlike any other photo booths for sale today, Fun Stop Photos allows your customers to take photos both inside and outside the photo booth – at the same time! Groups of 15 or more people can take group photos from the rear camera, as an open air photo booth. Simultaneously, customers can be inside the photo booth taking pictures, having fun, and spending money.

The redundant systems unique to this photo booth make Gen II Fun Stop Photos exceptionally profitable and extremely reliable. Menu options allow each camera to operate its own printer. But, if a printer runs out of paper, the printing function automatically switches to the other printer.

These reasons alone would explain the huge demand for Fun Stop Photos. But, on top of all that, Team Play also offers the lowest ongoing media prices in the entire photo booth industry. And, all software and borders updates are free of charge.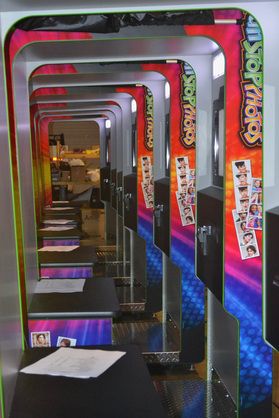 Each Fun Stop Photos photo booth already comes preloaded with roughly 100 different borders, so that operators can constantly offer their customers a variety of fresh options. Subsequent photo booth software updates include additional, new borders at no charge.
Pellegrini let slip, "Our next software release will add social media features and is nearly ready. Operators who want to offer uploading of photos to social media will be able to download that software update from our web site very soon," Pellegrini said.
"At no charge, of course," he added.
Photo booth operators are already signing up at
www.teamplayinc.com
, to be notified by email when the next new software update is available for download. Meanwhile, new photo booth orders come in daily, and the photo booths are flying out Team Play's door.
To find out more information about our photo booths for sale, check out Team Play's web site at
www.teamplayinc.com
, call Team Play at 847-952-7533, visit a
Team Play distributor
in your area, or
click here to email
Team Play's Sales staff.
But you should hurry to place your photo booth order. The photo booths are flying!