Globo Frenzy è a Roma! On October 15, Fishbowl Frenzy made its Italian debut to an adoring European crowd at ENADA, the International Amusement and Gaming Show in Fiera di Roma. Once again, Team Play's delightful 3D computer-generated fish have been exceptionally well received by everyone attending the show.


Betson Enterprises' Tom Kane made the trip "over the fish pond" to introduce Fishbowl Frenzy at ENADA. Tom knows a good game when he sees one, and he is thrilled to be distributing Fishbowl Frenzy. The much-anticipated game also appeared at EAS in Amsterdam, and Tom Kane described the game's reception as "incredible." So far, the Italian crowd has followed suit with equal enthusiasm and interest in Fishbowl Frenzy. In a word, Fishbowl Frenzy is 'Fantastico!'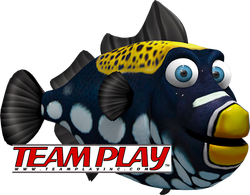 Fishbowl Frenzy combines mechanical and video elements with a carnival theme, reminiscent of everyone's childhood attempts to win a goldfish in a bowl at the county fair. Fishbowl Frenzy is strictly a game of skill, challenging players to carefully time their release of a ball which drops through a field of pins into one of the fishbowls below.
Actual fishbowls are attached to the face of the transmissive LCD screen, in which charming and adorable 3D fish characters are generated. Players can see through the translucent screen to watch the ball drop, waiting in excited anticipation to see where it will splash. Advanced technology, mechanical skill play, extraordinary graphics and cute characters combine to create a terrifically entertaining game – the likes of which have never before been seen in the coin‑op industry.
Fishbowl Frenzy's delightful computer-generated fish celebrate each win, spinning and jumping with enthusiasm. And, an entertaining carnival barker fish encourages and congratulates the players throughout. The game play is easy to learn and highly addictive.
On test since June, Fishbowl Frenzy has proven to be an exceptionally strong performer. One location reports that if there are only four people in the arcade, all four will be lined up for their turn to play Fishbowl Frenzy. In sum, the players are hooked!
Team Play intends to start shipping Fishbowl Frenzy™ next week. If you haven't placed your order yet, you're already behind your competition. The game's official release will be at IAAPA 2014 in Orlando, Florida on November 18-21. Fishbowl Frenzy is a contender for the Brass Ring Award!
Visit Team Play's web site at
www.teamplayinc.com
and visit Team Play's Booth 2000 at IAAPA. Meanwhile, the fish will be swimming circles and jumping for joy, because Fishbowl Frenzy is quite the catch!