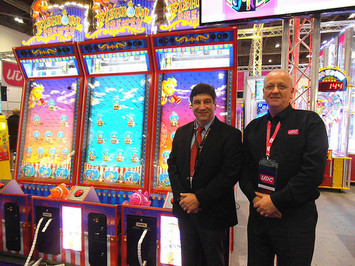 Team Play's new videmption game Fishbowl Frenzy™ has once again crossed the pond, this time to London for the sixth annual EAG International Amusement and Leisure Show that took place at the ExCeL London Exhibition Centre earlier this week.
Betson Enterprises and The United Distribution Company presented an impressive display of Team Play's Fishbowl Frenzy™ game, which was very popular with EAG attendees. Coverage of EAG 2015 by
Intergame Magazine
included some great photos, including Betson's Tom Kane with UDC and Fishbowl Frenzy in London.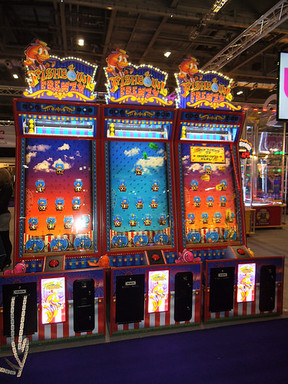 Fishbowl Frenzy has been extremely well-liked overseas since it was released two months ago by the U.S. redemption game and photo booth manufacturer, Team Play, Inc. Since Fishbowl Frenzy first appeared at EAS in Amsterdam and ENADA in Italy, Team Play has been inundated with international inquiries from people wanting to buy the game, whether to distribute or to operate in their own arcades.

Emails and calls have been flooding in to Team Play from all over: Italy, Netherlands, Pakistan, United Arab Emirates, United Kingdom, Australia, South Africa . . . Fortunately, Team Play has an excellent network of distributors worldwide, so everyone will be able to find a Fishbowl Frenzy for their family entertainment center.

It is very exciting to know that people all over the world love Fishbowl Frenzy™ as much as we do!
Fishbowl Frenzy combines a carnival theme with advanced technology, mechanical skill play, exceptional video graphics and adorable characters to create a highly entertaining video redemption game unlike anything ever seen in the coin-op industry before. And, the new videmption game has proven to be an exceptionally strong earner, quickly rising to the top of the earnings charts. It's no wonder that everyone wants a Fishbowl Frenzy in their FEC!

To buy your Fishbowl Frenzy in the United Kingdom, visit The United Distributing Company Limited, UDC House, 181 Park Avenue, Riverside Business Park, London, NW10 7XH, UK. Call UDC at +44(a)20 8965 7071 or email: info@udc.co.uk for more information.

In the meantime, the lobster will party and fish will jump for joy, because everyone loves Fishbowl Frenzy!
---