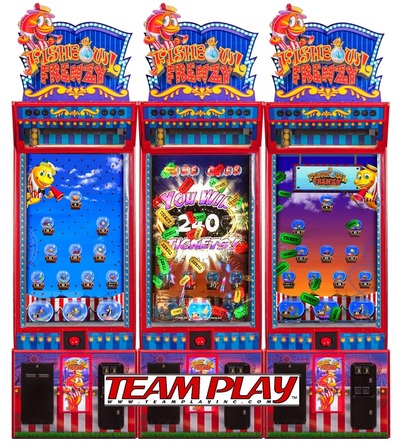 Team Play has completed shipping its new Fishbowl Frenzy™ videmption game to every Dave and Buster's™, the first chain of entertainment destinations to receive the new augmented reality, videmption game.

Fishbowl Frenzy's arrival at Dave & Buster's has been quite the subject of discussion online. Team Play owner Frank Pellegrini said, "We love reading that the guests at Dave & Buster's 'couldn't get enough of Fishbowl Frenzy' and that the reviewer could hardly get a chance to play because of the 'horde' of guests 'crowded' around Fishbowl Frenzy. Three years and a lot of work went into developing Fishbowl Frenzy, so it's very rewarding to hear that Dave & Buster's guests are enjoying the game."

Team Play reports enormous U.S and international demand for Fishbowl Frenzy, production of which only recently started. Dave & Buster's was kind enough to quietly test Fishbowl Frenzy prototypes at two of their locations. They were so happy with the test results that they ordered units for all of their stores before the game was even in production!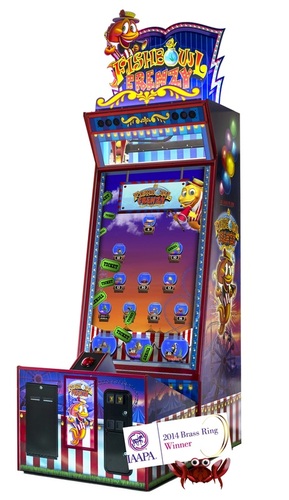 Winning the confidence of Dave & Buster's was a big score for Team Play's Fishbowl Frenzy and comes on the heels of another big score: Winning the 2014 IAAPA Brass Ring Award for Best New Coin-Op Product. Pellegrini said, "We were thrilled that IAAPA recognized Fishbowl Frenzy with the Brass Ring Award, and we are honored that our customers believe in the product. It is such a unique and entertaining video redemption game that it appeals to everyone. We expected small children to like it, but we discovered that guests of all ages like to play Fishbowl Frenzy as much as the kids!"
Strictly a game of skill, Fishbowl Frenzy™ combines advanced technology and adorable graphics with a carnival theme, to create a terrifically entertaining game which is easy to learn, fun to play, and appealing to everyone. The game challenges players to time the mechanical release of an actual ball which bounces through a field of pins into one of the fishbowls attached to the game's 65‑inch monitor. Where the ball splashes determines how many tickets the player wins. The translucent screen allows players to see through the LCD screen to watch the ball drop, while charming, computer-generated 3D fish celebrate each win, excitedly spinning and jumping.
Test earnings have solidly proven Fishbowl Frenzy™ to be a top-10 earner. The consensus among everyone who has seen Fishbowl Frenzy is that the new videmption game is exceptional – quite possibly the best redemption game ever created.
If you didn't see Fishbowl Frenzy at IAAPA, just visit your nearest Dave & Buster's for a chef‑crafted meal, innovative drink, and exciting Fishbowl Frenzy game play. And, if you haven't ordered your Fishbowl Frenzy yet, go to
www.teamplayinc.com
to find a Team Play distributor near you.
In the meantime, the lobster will dance as 3D fish jump for joy, because everyone loves to "Eat, Drink, and Play" Fishbowl Frenzy!